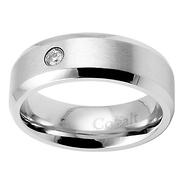 One of the popular, high-tech contemporary metal choices for wedding bands is a cobalt ring. A cobalt wedding band offers the elegance and durability of a precious metal wedding band at a much more affordable price. These rings are most often used as groom's bands.
Cobalt rings are similar in appearance to platinum but have their own unique tone, shine, and color. As with other wedding bands, they come in a variety of styles, including traditional plain bands, carved bands, and mens diamond wedding rings.
GoldenMine now offers a beautiful selection of high quality cobalt rings at prices which are highly affordable.