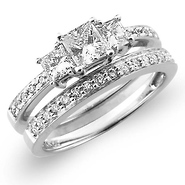 Bridal ring sets are sets of matching engagement rings and wedding bands. These wedding sets are preferred by women who wish to keep their engagement ring prominently visible after marriage.
The bridal ring set is designed to showcase the diamond or other stone in the engagement ring. The most common settings are white gold, yellow gold, and platinum, but other options also exist.
Bridal ring sets make a popular modern choice for engagement and wedding rings because they simplify things visually. We carry a wide variety of bridal ring sets to suit all tastes at below retail prices.