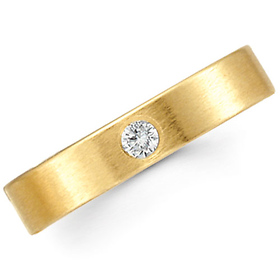 Benchmark rings are one of the most highly coveted designer wedding band brands today. The name of the company signifies its intent - to be the benchmark by which all other wedding bands are judged. Benchmark wedding bands offer a marriage between design and durability and radiate style and quality. The company is also committed to advances in technology and constantly improving their products. Many of their offerings, such as their unique tarnish-resistant silver, cannot be found in other lines.
Benchmark Ring Styles
Benchmark's designers provide a wide variety of styles to suit the gamut of tastes from traditional to contemporary. There are many classic choices such as plain gold bands, but Benchmark excels at distinctive artistic pieces that really allow the personality of the wearer to stand out. Engaged couples sometimes spend so much time thinking about the engagement ring that the wedding rings become an afterthought. However, Benchmark rings are works of art in themselves.
Besides traditional precious metals like gold and platinum, Benchmark also offers contemporary metals, such as tungsten, which present a unique appeal. Even plain Benchmark wedding bands stand out due to their shape and image.
Benchmark Wedding Bands for Men and Women
Benchmark designs wedding rings for both men and women. Although they generally are not sold as sets, it is easy to find matching wedding bands because each style comes in a variety of widths.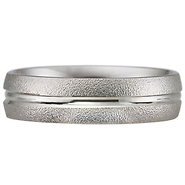 Comfort and Durability
Benchmark wedding rings have been designed for comfort. Each Comfort Fit wedding ring is engineered to fit without irritation or chafing. In addition, alloys used on gold or platinum bands have been specifically chosen for strength, and styles which are made out of contemporary metals will not change color, fade, or discolor your fingers.
Lifetime Guarantee
Like most designer wedding band lines, Benchmark offers a Lifetime Guarantee, but theirs goes above and beyond the average. Besides guaranteeing the construction of the ring, they also promise to resize it or replace it if your finger size changes over time, no matter how many years have passed since your wedding. This Lifetime Guarantee is another example of their belief in their product and how much they value their customers.
Benchmark wedding bands are an excellent choice for couples who are concerned with quality, no matter their price range, but it is important to only buy them from an authorized retailer, such as GoldenMine, to ensure you are getting the real thing and to qualify for the Lifetime Guarantee.
***
If you have any questions about jewelry, call Customer Service toll free at (888) 223-7056. We are open from Monday - Friday, 9am - 5pm PT. We'll be glad to help.
Related Jewelry Buying Guides: