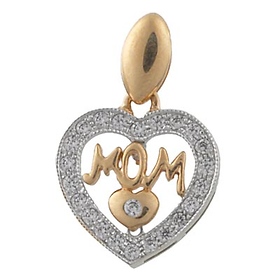 When you're looking for gift ideas for Mother's Day, jewelry should be one of the top choices. It's the kind of thing that your mom would never think to buy herself, and yet it's a lasting symbol of love that can't fail to put a smile on her face. Following are some of the best gift ideas for Mother's Day whatever your budget:
Mother Pendants
No other jewelry best tells the world that someone is a mom better than silver and gold heart pendants that say, "Mom." They come in an assortment of styles - two tone, CZ encrusted, and more. You can pair them up with a diamond cut gold chain as a gift or give separately.
Gold Chains and Necklaces
Gold chains are a perfect gift for Mother's Day because they're so versatile. You can buy an ornate style that makes its own statement as a necklace, or select a simple style to serve as a backdrop for a beautiful gemstone pendant. Gold chains are also a great choice because they hold their value in today's uncertain economy.
Necklaces are another versatile choice for a Mother's Day gift no matter the recipient's style. From simple chains to elaborate symbolic pendants to sweet charms, we have a variety of necklaces in gold, precious stones, and semi-precious metals to suit every budget.
Stud Earrings or Chandelier Earrings
Earrings are a great choice for a Mother's Day gift if the recipient has pierced ears because they come in so many different styles. Whether the mother you're buying for is a traditionalist who would love simple pearl studs or diamond stud earrings or a fashionista who would feel perfectly at home in fancy chandelier earrings, there's something here to please her for sure.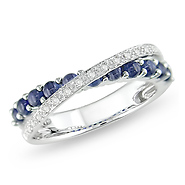 Bracelets - Bangle, Charm, and More
Bracelets are another excellent Mother's Day gift because they're one of the more comfortable forms of jewelry. A simple gold bangle is adaptable for daytime wear or evening clothes, and more elaborate versions like omega bracelets or gemstone bracelets can really give any mom a chance to show off. If she's got a youthful vibe, charm bracelets or id bracelets are smart choices, and for the preppy mom, you can't go wrong with a pearl bracelet or a tennis bracelet.
Rings
Mother rings or birthstone rings representing her, your, or your grandchild make a great gold ring options if you want to show the mother of your children some appreciation.
No matter what style you pick, moms love jewelry. Rings, necklaces, bracelets, chains, or earrings are emblematic of lasting love like a mother's for her child.
***
If you have any questions about jewelry, call Customer Service toll free at (888) 223-7056. We are open from Monday - Friday, 9am - 5pm PT. We'll be glad to help.
Related Jewelry Buying Guides: