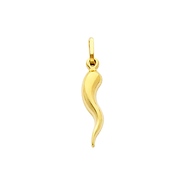 14k gold Italian horns are necklaces intended to be worn as good luck charms. Though the trend originated in Italy as a talisman to ward off the evil eye, they are highly popular in the US today as well. The pendants on these necklaces resemble elongated, stylized ram's horns.
Gold Italian horns are almost always made out of yellow gold, and come in small, medium, and large versions. They are usually plain in style, although versions accented with gemstones do exist. Italian horns are most frequently paired with plain chains.
We offer 14k gold Italian horns in all sizes, at prices which are considerably below retail at GoldenMine.com.