In our last blog post, we mentioned how silver jewelry is actually considered a precious metal. Some of you may have already known that information while others may have thought otherwise. For instance, one of our staff member's mother thought that silver was pretty cheap, but we set her straight! In actuality, silver is a more affordable fine jewelry compared to gold and platinum jewelry.
On March 20, 2012, the Wall Street Journal reported that silver jewelry sales increased last year in its article, "Sales of Silver Jewelry Shine in 2011" (see article here), written by Tatyana Shumsky. Shumsky reported that "77% of U.S. jewelers responding to poll saw an increase in silver jewelry sales in 2011" and "27% of U.S. jewelers saw silver jewelry sales rise more than 25%."
We also experienced increased sales with our silver collection last year, and I wanted to see if that trend continued into the beginning part of 2012. Comparing our silver jewelry sales from January - March 2012 to the same time last year, we sold over 200% more silver items than before! I was shocked. As a company that focuses mainly on 14k-18k gold jewelry, GoldenMine expanded its silver selections, especially silver pendants, silver earrings, and silver bracelets, over the past year due to the economy, rising metal costs, and changing customer preferences. While our customers continue to still buy gold jewelry, they are buying more silver jewelry as well. We have plans to add even more silver chain necklaces, bracelets, earrings, and pendants for women and men.
Looking further into our silver jewelry sales, here are our top-selling silver jewelry.
Top 5 Silver Jewelry:
1. Silver Figaro Chain Necklaces
2. Sterling Silver CZ Engagement Ring Set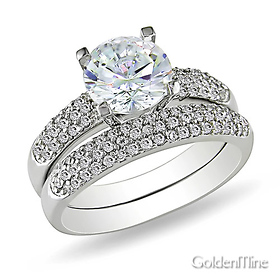 3. Silver Diamond Cut Rope Chains

4. White Ice Sterling Silver Diamond Charm Necklace
5. Sterling Silver CZ Hoop Earrings – Elliot Skye Collection