Available now are Men's Gold necklaces for fashion-conscious men. Not only do these necklaces definitely make a hot fashion statement but can also be considered an investment. The price of gold is soaring new heights, and many investors who stood shy of investing in gold are all hovering around it like bees to honey.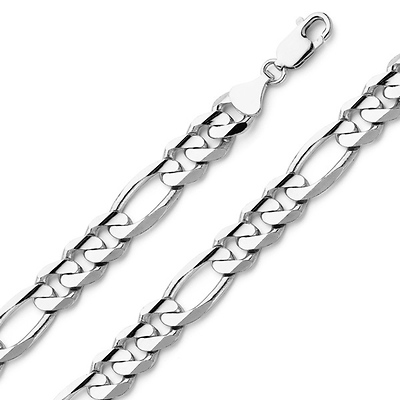 Gold is the new stock market! Many new-time investors find it safer to invest in gold rather than take the giant leap into the volatile stock market. Even the property market seems to be plummeting while the price of gold sees no sign of falling; it seems like a rather foolproof investment for now.
Men's gold necklaces have been around on the fashion circuit for a while, but it is only now that men have started to drop their inhibitions and buy more gold jewelry. Some of the popular gold necklaces designs are the 18K Gold 7mm Concave Curb Chain, 4mm 14K Gold Diamond Cut Rope Chain, 4.5mm 14K Gold Stamped Figaro Chain, 2mm 14K Gold Franco Chain, and 3.5mm 14K Gold Mariner Chain. All these chains are very cool and are becoming popular buys for men of all ages. Go through all the styles available and choose one you love.
Gold has always had a stigma attached to it; it was always considered mundane and boring. But now, with many hip-hop stars and Hollywood celebrities jumping on the gold train, it has definitely become more fashionable and trendy. Also, the designs available today are definitely funkier and modern than the ones that used to be in vogue before.
Go online to buy gold necklaces. You will see a variety of men's necklaces available, and the styles are trendier and hipper. Before you do buy anything from any online website, remember to do a background check on the website. Has the site being around for a while? Are there any customer satisfaction testimonials? Read up on a few of them if there are any, and only then make up your mind to buy from this site. If you know for sure the site is legitimate, then shop away!
Men's Gold necklaces
for fashion-conscious men have undergone an evolution, and it is important that you choose a style that suits you. Don't get taken in with what looks good on someone else - gold is a very personal buy. Buy gold necklaces that match your personality and is made with good quality gold. Not only are gold necklaces a personal buy, they can also bring a good investment.